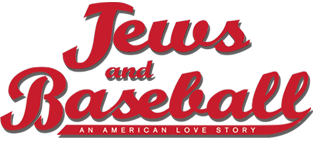 Jews and Baseball: An American Love Story explores the connection between Jewish Americans and baseball, our nation's most iconic institution. More than a film about sports, it is a story of immigration, assimilation, bigotry, heroism, the passing on of traditions, and the shattering of stereotypes
"You should be an attorney or a doctor, but not a ballplayer," one former major leaguer remembers, describing the prejudices that he and other Jewish athletes faced. But despite the stereotypes, and in the face of hostility from fans and even violence from opposing players, there have been standout Jewish players in every decade from the 1860s to the present. Jews and Baseball is the first major documentary to tell their stories.
Interviews include fans, writers, executives, and especially players – including Al Rosen, Kevin Youkilis, Shawn Green, Norm Sherry, Ron Blomberg, Bob Feller, Yogi Berra, and a rare interview with the legendary Hall of Fame pitcher Sandy Koufax. Fans Ron Howard and Larry King speak of the meaning of Jewish ballplayers in their own lives, while historians and even two baseball-loving rabbis relate the stories of Jewish players to the turbulent history of the last century. These powerful personal and historical stories are interwoven with an extraordinary collection of rare archival footage and photos, and a musical score ranging from Benny Goodman to Yo-Yo Ma to Rush.
Dustin Hoffman narrates this engaging story of great drama, unforgettable games, and the broad sweep of American history.
Directed by
PETER MILLER
Produced by
WILL HECHTER
PETER MILLER
Executive Producer
WILL HECHTER
Narrated by
DUSTIN HOFFMAN
Edited by
AMY LINTON
Writer
IRA BERKOW
Original Music
MICHAEL ROTH
Cinematographers
ANTONIO ROSSI
STEPHEN MCCARTHY
ALLEN MOORE
Co-Executive Producers
LINDA SELIG
LYNDA WALKER
Associate Producers
CAROLINE BERLER
AMY LINTON
ANNE-MARIE SMITH
Sound Recordist
PETER MILLER
Additional Sound
CAROLINE BERLER
RYAN BRONZ
DANIEL BROOKS
JON CIANFRANI
GARRETT GUIDERA
JUDY HOFFMAN
MICHAEL JONES
BRENDAN RUSSELL
RENÉE SILVERMAN
Associate Editor
BRANDON ARNOLD
Additional Camera
ARTHUR YEE
NICK DE PENCIER
Public Relations
MARTY APPEL
Transcripts
MARCI JUETT
MEDIA TRANSCRIPTS, INC.
DC Research
ELISABETH HARTJENS, IMAGEFINDERS
Additional Research
KATE KEEGAN
JONATHAN SHAFER
Production Assistants
MATHEUS PARIZI CARVALHO
MANOL GUEORGUIEV
GABE PALEY
CHRIS PEJOVICH
MICHAEL JORDI VALDÉS
Post-Production Facility
NORTH AVENUE POST
On-line Editors
KYLE TEKIELA
Sound Edit and Mix
KENNETH LOVELL
Post-Production Supervisor
ANDREW SATINOFF
Narration Recorded at
POP SOUND, SANTA MONICA
STEPHEN DICKSON, Engineer, NICK BOZZONE, Assistant Engineer
Video Duplication
GLUE EDIT AND DESIGN
National Archives Transfers
HENNINGER MEDIA SERVICES
Legal
CASEY CHISICK
LORNE SALTMAN
CASSELS BROCK & BLACKWELL LLP
LAW OFFICE OF VALERIE MARCUS, LLC
Auditors
GOLDSTEIN PALOC LLP
Main Title Design
MARK COHEN / WIT AMERICA
Web Design
PERRY SANDERS
Original Music by
MICHAEL ROTH
BATYA MACADAM-SOMERS – violin
DUNCAN MOORE – percussion
DAVE POLLOCK – trombone
KARL SOUKUP – trumpet
PETER SPRAGUE – guitar
ASHLEY WALTERS – cello
Very Special Thanks to
JOHN REILLY
JOHN REKEVICS
Music Preparation
CYNTHIA SIMONIAN
Recorded and produced at SPRAGUELAND STUDIOS, Encinitas, California
PETER SPRAGUE and MICHAEL ROTH, producers
SEVENTH ART RELEASING
Major Funding Contributed By
APOTEX FOUNDATION
HONEY AND BARRY SHERMAN
CHARLES & ANDREA BRONFMAN FOUNDATION
BLANCHE & IRVING LAURIE FOUNDATION
ELISE & ALAN MECKLINGER
DAN FINKLEMAN
SAM FINKLEMAN
GREENBERG PHILANTHROPIC FUND
THE SONSHINE FAMILY FOUNDATION, FRAN & ED SONSHINE
ARTHUR M. BLANK FAMILY FOUNDATION
BERTRAM A. AND RONALD M. DRUKER CHARITABLE FOUNDATION
SLOANE & MARC FREEMAN
MARY JO GREENBERG
TRACY & JEFF KOWAL
ESTHER & JONATHAN SHIELDS
GREENBERG TRAURIG LLP
NANCY & ARN TELLEM
Additional Funding Provided By
BARBARA & TED ALFOND
JANE & NORMAN ALPERT
STEVE COHEN
FLORENCE & SID COOPER
IN MEMORY OF "PA" SID GROSSMAN
VALERIE & GARY HERSCHMAN
JEAN & DICK KATZ
SARITA & SURESH MADAN
PETER O'MALLEY
ARNOLD RUBIN
LINDA & STEVE SELIG
MARILYN & MICKEY STEINBERG
SUSAN & SIDNEY TOURIAL
ELAINE & MILES ALEXANDER
SANDRA & SANDY ARCHER
ELLEN ARNOVITZ
ARLEEN & SAM BACHNER
RENEE & RON BERNBAUM
NATALIE & MATTHEW BERNSTEIN
LOIS BLONDER
DONNA & MICHAEL COLES
TONI & BRUCE CORWIN
MARILYN & TERRY DIAMOND
SANDY & MIKE FLORENCE
GREAT VEST SIDE CLUB OF CHICAGO
HOWARD ISENBERG
ROCHELLE & BARRY KAPLAN
LYNNE & CALEB KOEPPEL
NICCOLE, JEREMY, LYNN & JULES KROLL
JUDGE IAN LEVIN
CONNIE BRUCK & MEL LEVINE
KATHY & KEITH LIBERMAN
SEN. BILL MAROVITZ
STAN PAPPELBAUM
JERRY M. REINSDORF
LINDA & ABE SCHEAR
GEORGE B. SCHWARTZMAN
MARILYN ROBIE & ARTHUR SHECHET
CRAIG A. STEIN
KATHY & ALAN STEIN
GARRETT VAN DE GRIFT
LYNDA & RICHARD WALKER
HERB WANDER
APRIL & JERRY WEINER
And other generous supporters
MAJOR LEAGUE BASEBALL FOOTAGE USED WITH PERMISSION OF
MAJOR LEAGUE BASEBALL PROPERTIES, INC.
ABC SPORTS
"AIRPLANE!" COURTESY OF PARAMOUNT PICTURES
JOHN E. ALLEN
HISTORIC FILMS
ITN SOURCE / FOX MOVIETONE
LIBRARY OF CONGRESS
MACDONALD AND ASSOCIATES
NATIONAL ARCHIVES
NATIONAL BASEBALL HALL OF FAME
NATIONAL CENTER FOR JEWISH FILM, AT BRANDEIS UNIVERSITY
NBC NEWS ARCHIVE
RARE SPORTS FILMS RESEARCH VIDEO
DR. WILLIAM SMITH
SPPN IMAGES
THOUGHT EQUITY MOTION,TM
UCLA FILM AND TELEVISION ARCHIVE
UNIVERSITY OF SOUTH CAROLINA NEWS FILM LIBRARY
NATIONAL BASEBALL HALL OF FAME
WATERCOLOR OF SANDY KOUFAX COURTESY OF
THE JOHNNY MERCER FOUNDATION
EVELYN ROBENBERG EISENSTAT
(HARRY'S ONLY SWEETHEART AND WIFE OF OVER 64 YEARS)
GEORGE EASTMAN HOUSE, INTERNATIONAL MUSEUM OF PHOTOGRAPHY
AIP EMILIO SEGRE VISUAL ARCHIVES
REBECCA ALPERT
AMERICAN JEWISH HISTORICAL SOCIETY
ASSOCIATED PRESS
THE JACOB RADER MARCUS CENTER OF THE AMERICAN JEWISH ARCHIVES
DON BAKER
BRACE PHOTO
BROWN BROTHERS
CORBIS CANADA
THE CUBA ARCHIVES OF THE BREMEN MUSEUM, ATLANTA, GA
THE DANNING FAMILY
ELLIOTT MADDOX
GETSTOCK
GETTY IMAGES
STEVE GREENBERG
WENDY GREENBERG
THE HECHTER FAMILY
JOCHEN HEISENBERG
THE HISTORICAL SOCIETY OF ROCKLAND COUNTY, NEW CITY, NEW YORK
PETER S. HORVITZ
JCH BENSONHURST
JEWISH HISTORICAL SOCIETY OF GREATER HARTFORD
JOHN F. KENNEDY PRESIDENTIAL LIBRARY AND MUSEUM
PAUL HADSALL
HERALD EXAMINER COLLECTION/LOS ANGELES PUBLIC LIBRARY
LIBRARY OF CONGRESS
MIKE MILLER
JIM GEHRZ/ MILWAUKEE JOURNAL SENTINEL/PSG
MINNESOTA HISTORICAL SOCIETY
MURRAY OLDERMAN
NAHEM FAMILY
THE NEW YORK DAILY NEWS
THE NEW YORK PUBLIC LIBRARY
BARTON SILVERMAN
THE NEW YORK TIMES
PRINCETON UNIVERSITY LIBRARY
SHAAREY ZADEK SYNAGOGUE, DETROIT
SHULAMITH Z. BERGER COLLECTION
THE LEONARD N. SIMONS JEWISH COMMUNITY ARCHIVE
THE STATE ARCHIVES OF FLORIDA
TAMIMENT LIBRARY/ROBERT F. WAGNER LABOR ARCHIVE/NEW YORK UNIVERSITY
UNITED STATES HOLOCAUST MEMORIAL MUSEUM
W.S. HOOLE SPECIAL COLLECTIONS LIBRARY, UNIVERSITY OF ALABAMA
ARCHIVES AND RARE BOOKS LIBRARY, UNIVERSITY OF CINCINATTI
UNIVERSITY OF INDIANA
WALTER P. REUTHER LIBRARY, WAYNE STATE UNIVERSITY
UPPER DECK
FRED WILPON
YIVO INSTITUTE
DOLLY CASE BERKOW
SLOANE FREEMAN
MARC FREEMAN
LINDA HECHTER
GREG LINTON
VALERIE MARCUS
ANNA MILLER
NORA MILLER
BROOKE YASSKIN
MICHAEL YASSKIN
NEW YORK METS
NEW YORK YANKEES
YOGI BERRA MUSEUM & LEARNING CENTER
92ND STREET Y
NEW JERSEY YMHA-YWHA CAMPS
THEO HARDUVELL AND JUDY HOFFMAN
PEGGY STERN
UJA-FEDERATION OF NEW YORK
CONGREGATION ANSCHE CHESED
ELDRIDGE STREET SYNAGOGUE
IZZY ARIAS
ROBERT BADER
BECCA BALDWIN
SARAH BOTSTEIN
JANICE BROWN
SEAN BROWN
SAM CARL
LUCINDA COXIN
DAVE DANNING
DALTON DELAN
UDY EPSTEIN
ERIK EWERS
ANGELA FORSTER
RICHARD FREDERICK
RABBI BARUCH FRYDMAN-KOHL
JIM GATES
BILL AND WENDY GUTFARB
LORRAINE HAMILTON
DR. ISAAC HERSCHKOPF
MICHAEL HOLSTEIN
JEROME HOLTZMAN
LUCILLE IASELLO
AMANDA KAPLAN
DAVID KAPLAN
PAT KELLY
AVIVA KEMPNER
KAREN KENTON
DAN KLORES
GENE KORF
SUE KAYE GOTTSEGEN LEISER
BRAD LICHTENSTEIN
DAVID MCMAHON
JONATHAN MILLER
KENNETH MILLER
MIKE MILLER
CHRIS MONAHAN
JEN MULLIGAN
ANDREW NAHEM
IVAN NAHEM
JOANNE NAHEM
LYNN NOVICK
EMILY O'SHEA
ANNE PEJOVICH
SHARON RIVO
LARRY RUTMAN
PERRY SANDERS
CARLOS SANDOVAL
RENÉE SILVERMAN
JILL MINCER SINGER
DON STARR
STEVE STONE
NICK TROTTA
LOUISA VELIS
SONNY VENIT
VTA
MINDY WALKER
PHIL WEINTRAUB, JR.
TIM WILES


© 2012 CJMEF
All Rights Reserved