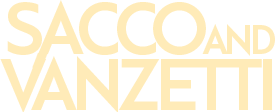 SACCO AND VANZETTI brings to life the story of two Italian immigrant anarchists who were accused of a murder in 1920, and executed in Boston in 1927 after a notoriously prejudiced trial.
The ordeal of Nicola Sacco and Bartolomeo Vanzetti came to symbolize the bigotry and intolerance directed at immigrants and dissenters in America, and millions of people in the U.S. and around the world protested on their behalf. Decades later, the story continues to have great resonance, as America once again grapples with issues of civil liberties and the rights of immigrants.
SACCO AND VANZETTI dramatically interweaves the political and personal stories of the two men and their seven-year legal ordeal. The powerful prison writings of Sacco and Vanzetti are read by actors John Turturro and Tony Shalhoub. A chorus of passionate commentators propels the narrative, including Howard Zinn, Studs Terkel, Arlo Guthrie, and a number of older people with personal connections to the story.
Through the tragic story of Sacco and Vanzetti, and the inspiring images of those who keep their memories alive, the film presents a universal – and very timely – tale of official injustice and human resilience.
Directed by
PETER MILLER
Produced by
PETER MILLER
AMY CAREY LINTON
Editor
AMY CAREY LINTON
Cinematography
STEPHEN MCCARTHY
Original Music
JOHN T. LABARBERA
Associate Producers
NICOLE OPPER
GREG LINTON
TOM ROCHE
Executive Producer
JESSE CRAWFORD
Voice of Nicola Sacco
TONY SHALHOUB
Voice of Bartolomeo Vanzetti
JOHN TURTURRO
Additional Voices
JOHN AMMERMAN
WILLIAM MILLER
ANTHONY RODRIGUEZ
HOLLY STEVENSON
Project Advisors
ALEJANDRO ANREUS
PAUL AVRICH
PAUL BUHLE
DAVID KAISER
FRASER M. OTTANELLI
MICHAEL TOPP
MARY ANNE TRASCIATTI
NUNZIO PERNICONE
Sound Recordists
DANIEL BROOKS
GREG LINTON
GEORGE SHAFNACKER
JOHN VALADEZ
Additional Sound
BRAD LICHTENSTEIN
JAY MCLAUGHLIN
PETER MILLER
Additional Camera
DANIEL B. GOLD
JUDY HOFFMAN
GREG LINTON
PETER MILLER
NICOLE OPPER
Consulting Producer
ESTHER CASSIDY
On-line Editor
TOM ROCHE
Re-Recording Mixer/Sound Editor
BRIT WARNER, MPSE, CAS
Colorist
D.C. CARDINALI

Post-Production Coordinator
KATHLEEN FITCH
Assistant On-line Editor
CHRIS STOCKMAN
Voiceover Sound Recording
MATT FOGLIA/POSTWORKS
GREG LINTON
JON MILLER
JOHN VALADEZ
Super 8 Transfers
BRODSKY AND TREADWAY
Research Consultants
ELISABETH M. HARTJENS, Washington, DC
CHIARA SIGNORILE, Villafalletto, Italy
Transcripts
MARCI JUETT
Production Manager, Italy
GABRIELLA BELLONI
Translators
GIANLUCA CAMMISA
TIZIANA RINALDI CASTRO
CAMILLA DELLE VERGINI
KIRK CARAPEZZA
TAYLOR KRAUSS
KATIE LORD
KERSTIN PARK-LABELLA
NICOLE MARCUS
LAURA TERRUSO
BEAGAN WILCOX
Original Music Performed by
JOHN T. LABARBERA, guitars, mandola, mandolin, saz, string table
Legal Services
VALERIE MARCUS
SCHWARTZ|MARCUS
Web Design
ANDREW PARKER, ACTION ATTACK
Webmaster
SCOTT DOWNIE
Produced in cooperation with
CRAWFORD COMMUNICATIONS, ATLANTA



A Willow Pond Films Production
© 2006 Peter Miller Films, Inc.
"Justice Denied in Massachusetts" by Edna St. Vincent Millay
Copyright © 1928, 1955 by Edna St. Vincent Millay and Norma Millay Ellis. All rights reserved. Used by permission of Elizabeth Barnett, Literary Executor, The Millay Society
Excerpts from THE LETTERS OF SACCO AND VANZETTI, edited by Marion D. Frankfurter and Gardner Jackson, Copyright The Viking Press, Inc. 1928, renewed 1956. Used by permission of Viking Penguin, a division of The Penguin Group (USA), Inc.
"SACCO E VANZETTI"
DIRECTED BY GIULIANO MONTALDO
ITALY, 1971
WORLDWIDE © 1971 UNIDIS JOLLY FILM SRL, ALL RIGHTS RESERVED
ROBERT D. FARBER UNIVERSITY ARCHIVES & SPECIAL COLLECTIONS DEPARTMENT,
BRANDEIS UNIVERSITY LIBRARIES
WARNER BROS. ENTERTAINMENT, INC. AND
TURNER ENTERTAINMENT CO.
JOHN E. ALLEN
GREG BYERS PRODUCTIONS
CREATIVE ARTS TELEVISION
CNN
CROWING ROOSTER ARTS
BOB DEFLORES FILM ARCHIVES
NONNY DE LA PEÑA
HISTORIC FILMS
JERRY KAPLAN
LIBRARY OF CONGRESS
NATIONAL ARCHIVES
RESEARCH FILMS
UCLA FILM AND TELEVISION ARCHIVE
JOHN VALADEZ
THE WPA FILM LIBRARY
DAVID ZEIGER
ARCHIVAL PHOTOS AND ARTWORK
TRUSTEES OF THE BOSTON PUBLIC LIBRARY / RARE BOOKS DEPARTMENT
SPECIAL COLLECTIONS DEPARTMENT , HARVARD LAW SCHOOL LIBRARY
ROBERT D. FARBER UNIVERSITY ARCHIVES & SPECIAL COLLECTIONS DEPARTMENT, BRANDEIS UNIVERSITY LIBRARIES
DIEGO RIVERA PAINTING EAST WALL, 1932-1933
COURTESY OF THE RIVERA ARCHIVES
PHOTOGRAPH © 1932 THE DETROIT INSTITUTE OF ARTS
ALL ART BY BEN SHAHN IS © ESTATE OF BEN SHAHN/
LICENSED BY VAGA, NEW YORK, NY
ART BY GEOGE GROSZ IS © ESTATE OF GEORGE GROSZ/
LICENSED BY VAGA, NEW YORK, NY
RARE BOOK, MANUSCRIPT, & SPECIAL COLLECTIONS LIBRARY, DUKE UNIVERSITY
PHOTOGRAPH BY LUCIENNE BLOCH
COURTESY OLD STAGE STUDIOS
TAMIMENT LIBRARY AND ROBERT F. WAGNER LABOR ARCHIVES, NEW YORK
FONDO VANZETTI – INSTITUTO STORICO DELLA RESISTENZA E DELLA SOCIETA CONTEMPORANEA IN PROVINCIA DI CUNEO
PHOTOGRAPH OF JOHN DOS PASSOS, MSS 5950, SPECIAL COLLECTIONS, UNIVERSITY OF VIRGINIA LIBRARY
PAUL AVRICH
BETTMAN/CORBIS
MICHAEL BIDDLE
BROWN BROTHERS
CLEVELAND STATE UNIVERSITY LIBRARY
CENTER FOR MIGRATION STUDIES OF NEW YORK, INC.
COMUNE DI VILLAFALLETTO
DARTMOUTH COLLEGE LIBRARY
HERBERT FEUERLICHT
FLORIDA STATE ARCHIVES
EDWARD GIOBBI
IMMIGRANT CITY ARCHIVES
LABADIE COLLECTION, UNIVERSITY OF MICHIGAN
FREDERIC LEWIS / HULTON ARCHIVE / GETTY IMAGES
LIBRARY OF CONGRESS
MINNESOTA HISTORICAL SOCIETY
MUSEUM OF THE CITY OF NEW YORK
NATIONAL ARCHIVES
PAULA PANZARELLA
JEANNETTE PARMENTER
CARL SALSEDO
ERIC SCHAAL / TIME LIFE PICTURES / GETTY IMAGES
TOPICAL PRESS AGENCY / HULTON ARCHIVE / GETTY IMAGES
GIOVANNI VANZETTI
FISCAL SPONSOR
NEW YORK FOUNDATION FOR THE ARTS
FUNDING PROVIDED BY
NATIONAL ITALIAN AMERICAN FOUNDATION
NATIONAL ENDOWMENT FOR THE HUMANITIES
MASSACHUSETTS FOUNDATION FOR THE HUMANITIES
RHODE ISLAND COUNCIL FOR THE HUMANITIES
JULIE OPPENHEIMER
NEW YORK STATE COUNCIL ON THE ARTS
LUCIUS AND EVA EASTMAN FUND
BLAUFARB AWARD, TAMIMENT LIBRARY, NEW YORK UNIVERSITY
MASSACHUSETTS CITIZENS AGAINST THE DEATH PENALTY FUND, INC.
SAMUEL RUBIN FOUNDATION
PUFFIN FOUNDATION
YIP HARBURG FOUNDATION
GREEN MOUNTAIN FORUM
THE LANDAU FAMILY (IN MEMORY OF SARAH FRIEDLER)
BLUE MOUNTAIN CENTER
MIMI O'CONNOR FAST
ITALIAN CULTURAL SOCIETY, SACRAMENTO
GERALD B. STORROW
VALERIE MARCUS
ANNA MILLER
NORA MILLER
MIKE MILLER
ACME GARDEN PRODUCTIONS
ANGEL SILVESTRI ABAJIAN
MICHAEL ALEXANDER
JOHN DAVID ALLEN
ELISABETH AVERY
DAVID BARDES
DAVID BELLE
LAURA BLUM
SARAH BOTSTEIN
BRAINTREE HISTORICAL SOCIETY
ANDY BRECKMAN
KEN BURNS
CATHY CARAPELLA
SEVERINO CARLUCCI
BARBARA R. CARROLL
SANDY LIPSMAN AND ROGER CRAMER
JEREMIAH CROWELL
FRANK D'ALESSANDRO, M.D.
ROBERT D'ATTILIO
NONNY DE LA PEÑA
DIAMOND TIME
DONA DI SANCTUS
DOCUCLUB
BOB ERDOS
BOB ERLER
MICHELLE FERRARI
FLORENTINE FILMS
MRS. ANNIE GAVONI
MAIA HARRIS
JUDITH HELFAND
LISA HELLER
JIM HENLY
MARY HICKEY
TRACIE HOLDER
MEGHAN HORVATH
JERRY KAPLAN
KARTEMQUIN FILMS
TOM KEY
MARCIA KNOPF
BRIAN KOLNER
ANDY LANSET
JUSTIN LATINI
LEONARD J. LEHRMAN
KATHRYN MACDOUGALD
JOHN MARINO
MATTEO MAROLLA
ROBERT AND TABITHA MAYO
JAMES MCCAFFREY
DAVE MCMAHON
ROBBY MEEROPOL
CRAIG MELLISH
DAVID AND RENEE MILLER
JOHN MISSO
VICTOR NAVASKY
JULIA NEWMAN
NORFOLK SUPERIOR COURT
LYNN NOVICK
MARTY OLINICK
RANDALL PENN
ZAK PIPER
RICHARD POLENBERG
LETITIA O. PRINCIPATO
RICHARD B. ROBBINS
ELLEN ROTHMAN
MARGARET SABATIELLO
SPENCER SACCO
SIGLINDA SCARPA
VINCENZA SCARPACI
PETER SCHNALL/PARTISAN PICTURES
JOE SCIORRA
TOM SHARPLING
RICHARD SHORE
IDEE SIMON
AVIAM SOIFER
PEGGY STERN
GEORGE STONEY
MARTHA TATE
DAVID VAN TAYLOR
VTA ATLANTA
JEANETTE VUOCOLO
GEOFFREY C. WARD
DAVID WEINSTEIN
MARC N. WEISS
KEVIN WONG